TRENDIN' WITH TRISTAN this Monday!
"Bohemian Rhapsody" Is Breaking Records -
"Bohemian Rhapsody" is now the highest-grossing biopic in Hollywood history.
The movie about Freddie Mercury and Queen has made over 600-million-dollars worldwide, and 175-million-dollars in the U.S. The victory pushes the previous record holder, the NWA biopic "Straight Outta Compton," down to second place.
The achievement is impressive considering Brian Singer exited as director and Sacha Baron Cohen was replaced in the lead role by Rami Malek.
Last week, the song "Bohemian Rhapsody" was declared the most-streamed song of the 20th century. Universal Music Group says the song has been streamed one-point-six-billion times worldwide.
Now the question is, what awards will the movie garner this season?
Source: Entertainment Weekly
======================================
Bill Cosby Is Denied Bail On Appeal -
Bill Cosby is being ordered to stay in prison while he continues to appeal his sexual assault conviction.
The Pennsylvania Supreme Court denied the disgraced comedian's request for bail on Friday. Cosby's legal team filed an appeal earlier this month to get his charges thrown out, citing multiple alleged trial errors.
The 81-year-old was convicted of drugging and sexually assaulting a woman in 2004 back in April, and was sentenced to three to ten years in prison. He's been trying to get out of prison for months.
Source: USA Today
==========================
Emily VanCamp and Josh Bowman -- who played husband and wife on the old ABC series Revenge -- have tied the knot in real life. They got hitched in the Bahamas over the weekend after five years as a couple and a year-and-a-half engagement.
Michael Weatherly's former NCIS co-stars have come out in his corner after news broke last week that CBS had paid his Bull co-star Eliza Dushku $9.5 million to settle a sexual-misconduct claim. Pauley Perrette and Sasha Alexander both tweeted messages of support over the weekend.
NBC is continuing its partnership with the Red Nose Day initiative to end childhood poverty. It will run a special slate of programming on May 23rd -- it will be the fifth year for the network.
Great news for fans of black-ish and The Goldbergs -- ABC has extended their 2018-2019 seasons. The network has ordered two extra episodes of black-ish and one additional episode of The Goldbergs.
==================================
PETE DAVIDSON: Social Media Scare
Fans and friends became seriously concerned this weekend when Saturday Night Live performer Pete Davidson Instagrammed, "I really don't want to be on this earth anymore. I'm doing my best to stay here for you but i actually don't know how much longer i can last. all i've ever tried to do was help people."
Police were alerted and determined that he was at work, preparing for the last live SNL show of the season. When it aired, his main contribution was to introduce Miley Cyrus, the night's musical guest.
It turns out he and his former fiancée, singer Ariana Grande, had gotten into something on social media about mental health and Kanye West. After his online suicide threat, she tweeted, "Man i'm so sorry i told a dumb joke. I really didn't mean any harm. all i want everyone to be healthy and happy. so desperately. please. my god."
Actor Michael Rapaport also had a role to play in this social media fiasco. On Saturday, he posted "Pete Davidson & KANYE must really not have Homeboys for real. These are 2 whinny [sic] ass bitching ass social media Babies." He also posted videos of his impressions of the two stars crying over Ariana Grande and Drake.
Rapaport later apologized: "Didn't realize Pete Davidson posted an actual genuinely scary IG note. Was not informed of all of those details. Would never mock someone when they're truly down. Sincerely. I thought this was all the daily normal gossip of the day & was doing my daily take."
Most of these posts, including all of Davidson's Instagram account, were deleted.
National Suicide Prevention Lifeline
Call 1-800-273-8255
================================
BOX-OFFICE REPORT
The Top 5 movies this weekend:
1. Spider-Man: Into the Spider-Verse - $35.4 million
2. The Mule - $17.2 million
3. Dr. Seuss' The Grinch - $11.6 million
4. Ralph Breaks the Internet - $9.6 million
5. Mortal Engines - $7.5 million
Creed II, Fantastic Beasts and Bohemian Rhapsody were pushed out of the Top 5 this weekend by three debuts: a very strong opening for the animated Spider-Man: Into the Spider-Verse, Clint Eastwood's senior citizen drug story The Mule and an also-ran showing by the futuristic adventure Mortal Engines.
Dr. Seuss' The Grinch dropped from number-2 to number-3, while Ralph Breaks the Internet slipped from the top spot to number-four.
Eastwood is the only real star to appear onscreen in the Top 5; three of the other films are animated, and the only name actor in Mortal Engines is Hugo Weaving.
Fun fact: This is Eastwood's second mule picture. In 1955, he was in Francis in the Navy, which starred a talking mule.
================================
Harry Potter Exhibit Lands In New York -
A new Harry Potter museum exhibit shows the inspiration behind the popular books.
The exhibit "Harry Potter: A History of Magic" is now open at the New York Historical Society in Manhattan. The exhibit includes original sketches and illustrations for the Harry Potter books and movies. and the books that inspired author J.K. Rowling. It even has classroom replicas you can walk through.
The exhibit 's curator said Rowling took things she found in used bookshops, like Culpepper's Herbology, and used them as a touchstone to create this incredible universe. The Harry Potter exhibit will be open at the New York Historical Society until January 27th.
It's the 20th anniversary of the release of the book series. Source: Hollywood Reporter
===============================
MON DEC 17, 2018 | ABOUT 3 HOURS AGO | POSTED IN: CELEBRITY DIET, FITNESS & BODY | SOURCE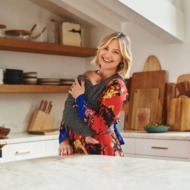 Kate Hudson is armed with her WW points and ready to hashtag up a storm!
The actress is the newest ambassador for WW — formerly Weight Watchers — and she's thrilled to join the healthy lifestyle program two months after welcoming her third child, daughter Rani Rose.
"It came at a perfect time for me, because at this point after having three babies it's like sense memory. You want to start getting back into shape and to get strong again and focus on your own personal health," Hudson, 39, tells PEOPLE exclusively. "It's hard when you have babies. Everyone comes before you, and you have to find that time to just focus in on yourself."

Billy and Julie
Want to know more about Billy and Julie? Get their official bio and social links!
Read more