Tattoo Stories with Dashboard Confessional's Chris Carrabba
Dashboard Confessional has finally released their first album in just over eight years, Crooked Shadows. The new album follows 2009's Alter the Ending, features nine new songs (including collaborations with producer/DJ trio Cash Cash and violinist Lindsey Stirling), and as Chris Carrabba explains it, combines all of his favorite pieces from previous albums.
Chris exclusively tells iHeartRadio of Crooked Shadows, "I've waited a long time for the inspiration to come so strongly, to arrive in a way I couldn't ignore it. And, in that way, it reminds me a lot of the feeling I got making my first records. I think sonically it's all my favorite pieces of my different records, and I figured out, by chance, how to do them all on one record."
With their seventh studio album officially out, and heading out on their 2018 headlining tour, the year is already off to an amazing start for Dashboard Confessional. While at iHeartRadio HQ, Chris Carrabba also opened up about his many tattoos during an exclusive interview. These are Chris Carrabba's Tattoo Stories. Read on below.
On his first tattoo: An arm band gone wrong
"I was 15 when I got my first tattoo, which I hid for 20 years, which is ridiculous because when my grandmother saw it she was like, 'You know, I've known since the day you got it that you've had that thing.' It was supposed to be sort of an armband. Not like a tribal armband. Like a series of three bold lines. That's what it was supposed to be. What it ended up being was three very squiggly lines that were raised about an inch off the skin. It's not supposed to be like that."
Chris's tattoo ended up being "three very squiggly lines," because the person who tattooed him was fellow 15-year-old, who had just received his tattoo gun via the mail. Chris explains:
"Another kid, another 15-year old kid, who had gotten his tattoo machine through the mail. And he could draw, sort of. So, he was like, 'I got a gun, I'm gonna be a tattoo artist,' and I was like, 'Cool.' He's like, 'Do you wanna come over today and get a tattoo?' I said, 'Sure.' I put a lot of thought into whether I wanted a tattoo. I had never once considered getting a tattoo in my life before then. But, here's the thing about when you get a tattoo. Most people know that you bleed a little bit. Just a little bit. And it's a little painful but when people ask me, 'Oh, that musta hurt.' Well if it hurts so much, far fewer people would have tattoos. So, as I got this tattoo, gotta do a little line of work, wipe away a little blood. Kind of it continues on like that. Well, in this case ... Usually, it's like, a paper towel is enough ... the bucket he had was almost enough for the blood that was gushing down my arm. Profusely. Dripping off. But I thought this was normal because I was 15 and had never seen anyone get tattooed, and never thought I was going to get a tattoo, and suddenly was getting tattooed. And I have a lot of tattoos in what they call the 'painful spots'; ribs, elbows, chest."
The same tattoo artist tattooed Chris a few more times, but as the frontman explains, they were "thematically terrible, all in a uniform way." Now, Chris has the tattoo covered up, making that entire section of his arm jet black, with the intention of someday getting a white tattoo over it. He explains, "I'm gonna go in with white and make something new out of it. But the weird thing is, as soon as I blacked it up, I really missed those really bad tattoos."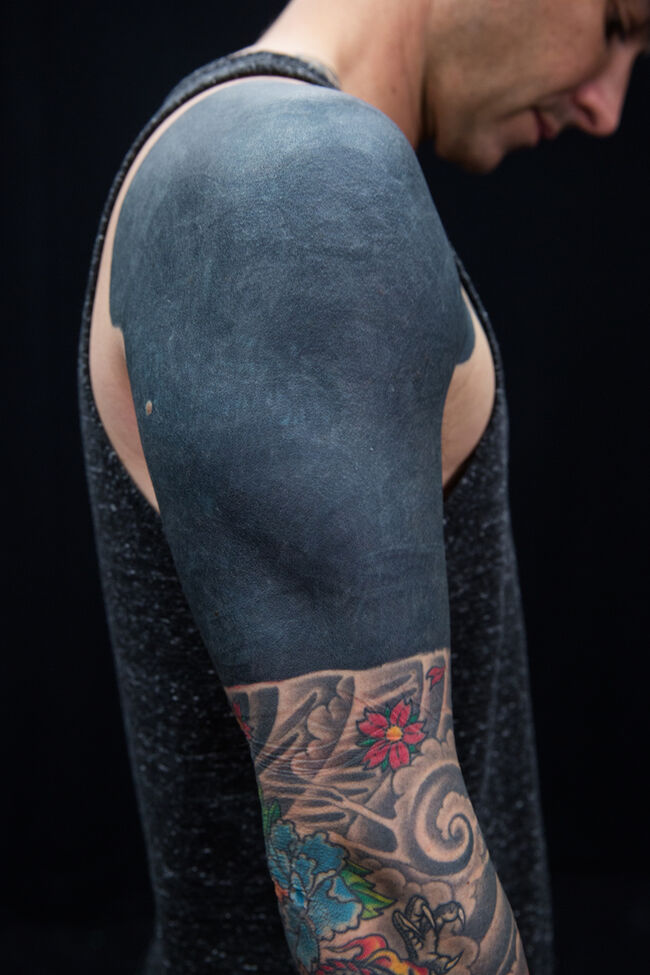 On the koi fish and dragons on his arms
"I've gotten ones that I thought represented, like, 'spiritual' would be too strong a word, but spiritual things, like my koi fish and dragons. The thing with koi fish is, in the Japanese mythologies, the koi fish will go into the cocoon and it comes out a dragon. And the dragon is the symbol of protection. So it's warding off the bad vibes. That kind of thing."
Chris later added, "When I started getting tattoos, not the jail cell style tattoos, but when I started getting real tattoos, the most common thing people were getting at the time were like American traditional or tribal tattoos, and I wanted something that was different and even older. And so I was drawn to that Japanese mythology. It's since become really very popular. But at the time, I hadn't seen too many young people with them, a lot of older folk. A lot of older generations had them because they were centuries old. And I do have a lot of traditional American tattoos also because I love that style. But I did want to have the mirror image of the fire and water. It started with knowing that the koi fish and the dragon are symbols of majesty and protection. And, other than that, the rest was just how to make it decorative. Having had such an auspicious beginning with my tattoos, I thought the rest should be good."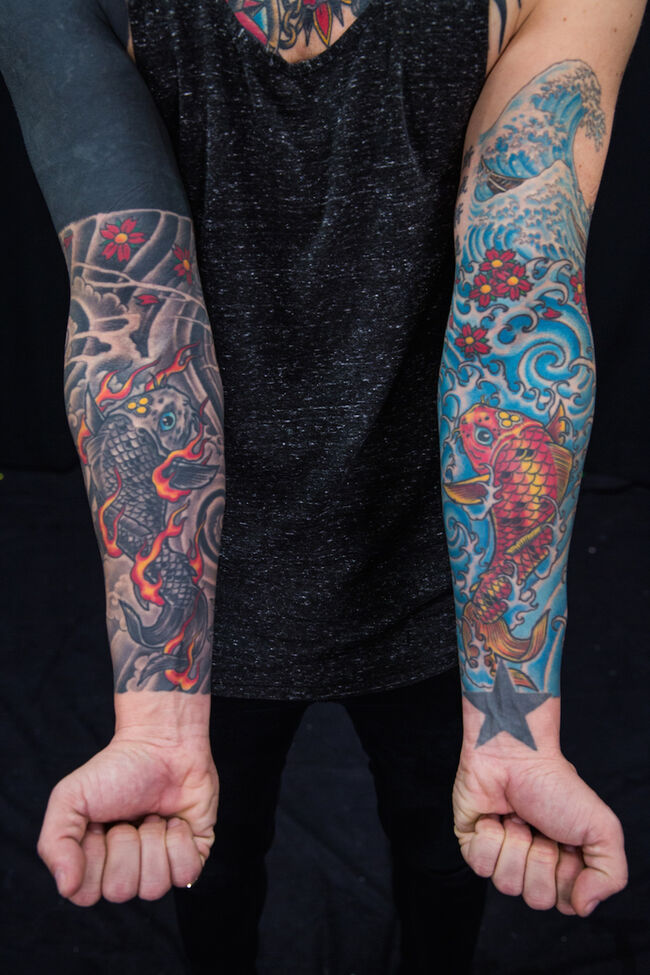 On the rose on his chest
"This one here is something I thought that was kinda relevant to where I am now. It's just a giant, traditional rose and to me, it just symbolizes a fresh start. Everything's in bloom again. I got the rose the day I found out the release date of the record. Because I thought, 'Well this is real now. And everything's starting again.' And it's kind of like springtime. So, I thought it would be an appropriate tattoo to get without jinxing my future. Because like if you tattoo your band name on, the band will break up in six months. Or if you're married and you tattoo your wife's name on you, the divorce rate I think is like 85%. I've studied this. In any event, I kind of just thought it was worth [it]. Who knows how the record will do, but the feeling I have right now, of the hopeful feeling I have right now, it's worth being able to look in the mirror and see, and be reminded of it."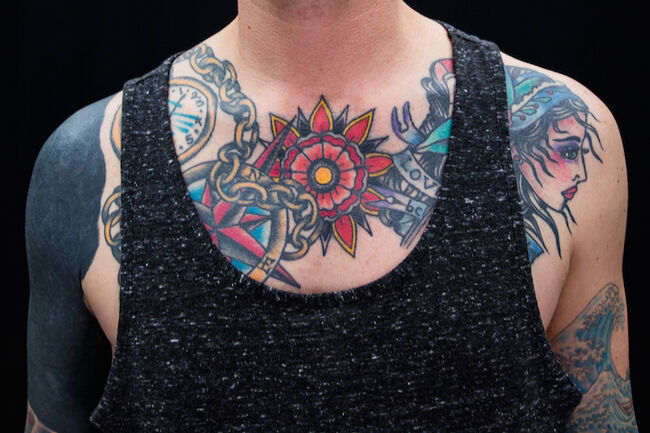 On the star on his wrist & arrows on his legs
"I have one tattoo of a star that I got ... my Dashboard and New Found Glory all these star tattoos together. I don't remember, but somebody said let's get stars. But I have another band called Twin Forks and the theme in a lot of our artwork is arrows. So I have a couple of arrows. That's the closest thing to a band tattoo. We have not put a record out since I got those tattoos, though, come to think of it. Maybe I jinxed it."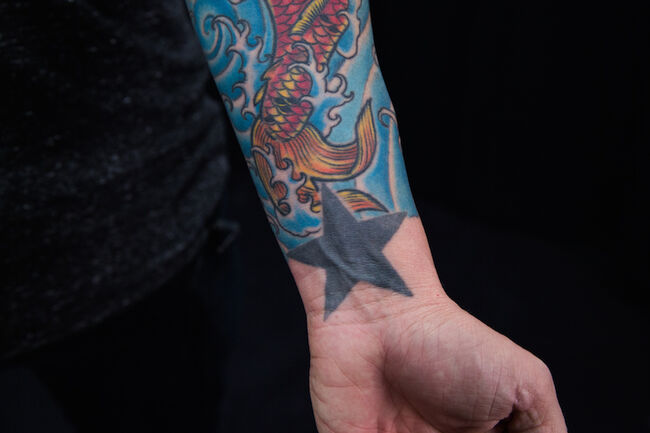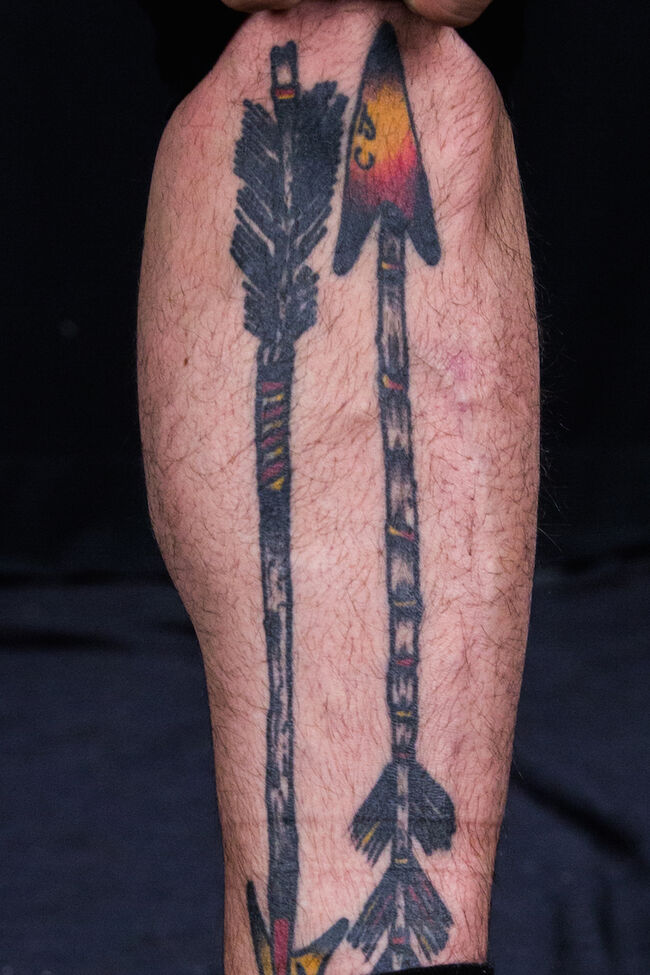 On the timepiece on his right shoulder
"Actually, this one that's over here I got in Dallas. And this was on the Twin Forks tour opening for Lucero. Love the guys in Lucero. Loved that tour because we only had to play for twenty minutes. It was awesome. So I could go do things like get a giant tattoo. Well, it's like a timepiece, like a clock, with a chain to a nautical compass. That was a good night, by the way. Like I think I stood there on stage and we're playing, it's a good day, got a tattoo, this crowd is ... I have their attention, maybe I've never played this well in my life. They're staring at me like they're really concerned. And then I realize when I got off-stage that I had just bled profusely through my shirt. Because I had this fresh tattoo that, then was sweating into my white t-shirt. I thought I was having the best show of my life! Turns out I was just gross. The timepiece, for me, is, without giving away why, the timepiece itself is set to a time that's important."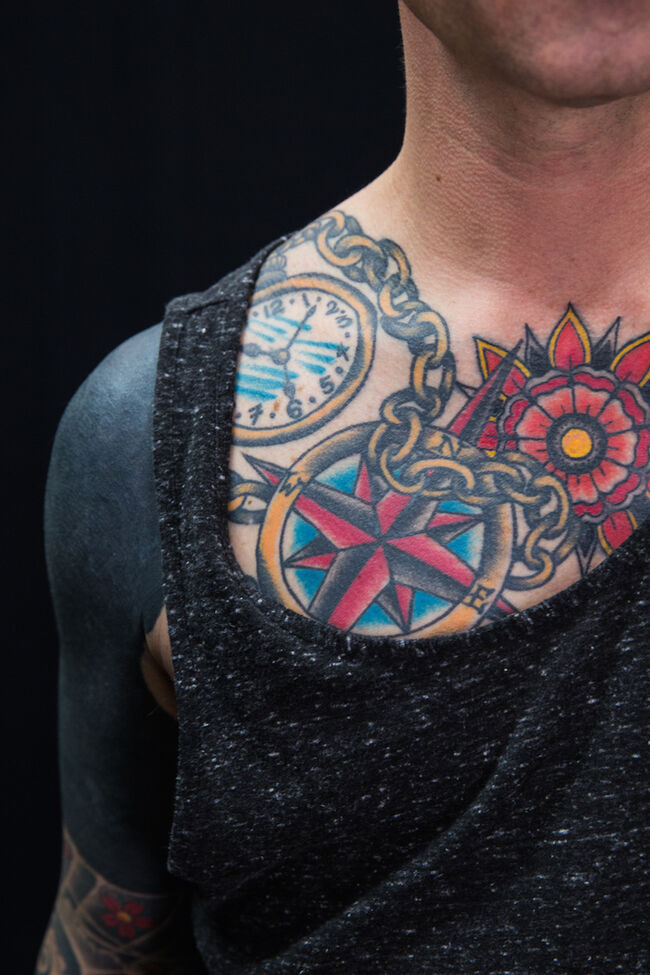 Chris has been tattooed all over the country, but mainly he goes to one guy -- and no it's not the former 15-year-old with the mail-order tattoo gun. Chris has become close with a tattoo artist by the name of Janos in South Florida. He explains:
"I like looking forward to my next session as opposed to hustling to get it done. I enjoyed my time with the different artists that do it, specifically this ... Most of my tattoos are by a guy a named Janos. And, I really enjoy spending time with Janos. He's a brilliant guy, and we just became really close friends, as is the case when you spend a lot of time [so] close to somebody, for like a hundred hours. You're gonna get to know that person really well."
Chris is in no rush to finish his tattoos, and calls it an "ongoing process" to get each piece one by one, little by little. He explains, "It's a thing for bands now to ... they start a band and they go out and they get a sleeve, like, in a week? And that just wasn't in the budget for me. Also, I didn't think that was the way you were supposed to get tattooed. I thought the right way is just to do slowly, piece by piece, get stuff over time, draw out the length of it. And that's what I happen to enjoy. I'm in no rush to finish my tattoos. I think it's an ongoing process."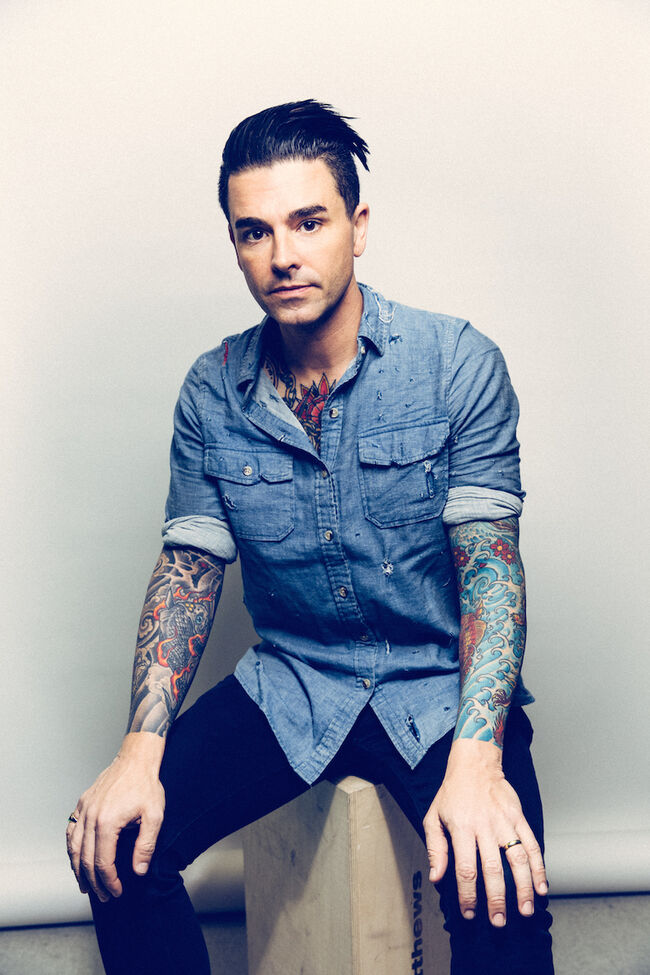 Photos: Wendy George for iHeartRadio