#WhatsAwesome - 'Horses For Lex' Facebook page helps sick girl's dreams come true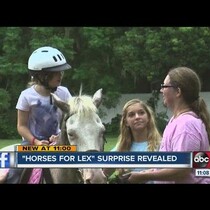 When you're having a bad day, sometimes you need to have a little reality check. Sometimes we need a feel good story to help us get through a Monday. This girl is having a tough battle & to make her happy, her mom asked people to send drawings of horses. They make her happy & in her fight against cerebral palsy, seizures & more, she can use all the help she can get to see a smile from her daughter.
One woman offered a chance to go on a pony ride, then made her go speechless wither an awesome offer! Watch the smiles & prepare the tissues!